(Nightscape of yachts docked at Marine City)
Busan is a city of beautiful beaches, glamorous night scenes, and modern history. The second largest metropolitan area in Korea, it is extremely popular as a vacation destination among locals and international visitors alike. The biggest advantage of touring Busan is that most of the main attractions are easily accessible by subway. Travelers with a tight budget can purchase a one-day pass for unlimited rides on Busan subways within the same day. With a ticket in hand, set out for a full day of fun and delicious food in Busan!
Busan subway one-day pass
The subway system in Busan consists mainly of six different lines, with Lines 1 to 4 running within the city, Busan-Gimhae LRT connecting Busan to Gimhae, and the Donghae Line covering the coast from Seo-myeon through Haeundae to Ilgwang. Most travelers arrive in Busan through Gimhae International Airport, Busan Station or Busan Bus Terminal, which are connected to Gimhae International Airport Station (Busan-Gimhae LRT), Busan Station (Busan Subway Line 1), and Nopo Station (Busan Subway Line 1) respectively. We recommend purchasing the one-day pass to start your tour of Busan as soon as you arrive. 
The one-day pass allows unlimited rides on the same day of purchase for all subway lines except the Busan-Gimhae LRT. Tickets cost 5,000 won each, and are available at all ticket vending machines located inside of the city's subway stations. The ticket machines offer assistance in Korean, English, Japanese, and Chinese for the convenience of international travelers. To purchase a one-day pass, simply select the designated button at the bottom right-hand side of the machine. However, keep in mind that these machines only accept payment by cash in the form of 1,000 won bills and 500 won and 100 won denomination coins.  If you happen to run out of smaller bills, simply ask for an exchange at the station office or use a money exchange machine to break down larger bills.
▶ Subway map for an easy day-trip in Busan
Major attractions on Line 1
1 Busan Old Town Tour! 

Nampo Station & Jagalchi Station

(Gukje Market (top) & Jagalchi Market (bottom))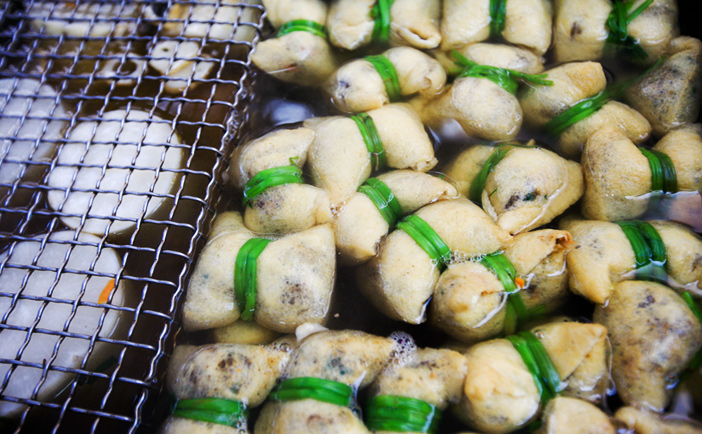 There are a number of large markets close to Busan Subway Line 1. The most famous markets are Jagalchi Market, the largest seafood market in Busan located close to Jagalchi and Nampo Stations; Gukje Market, which deals almost entirely with the merchandise imported through Busan Port; and the areas around Nampo-dong Street, Bupyeong (Kkangtong) Market, and BIFF Square, attracting people with their many unique food stalls and stores to check out.
Must-eats street foods of Gukje Market

(Yubu pockets (top), bibim dangmyeon & ssiat hotteok (bottom))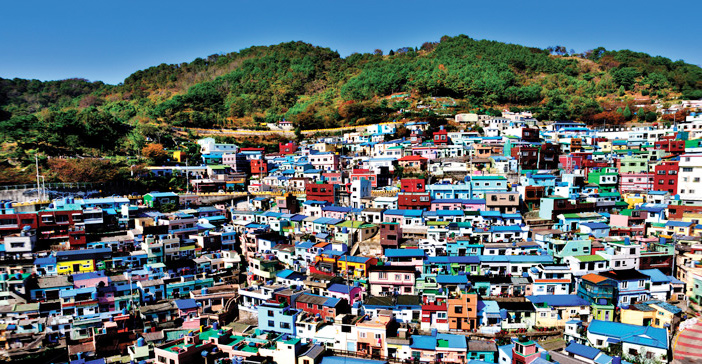 Bupyeong Market's top three foods are yubu (fried tofu) pockets, ssiat hotteok (seed-stuffed griddlecake), and bibim dangmyeon (spicy glass noodles). Yubu pockets, filled with glass noodles and served in a seafood and vegetable broth with fish cakes, are just the right treat to warm you up. The dish has no meat, making it a popular choice for vegetarians. Another dish great for filling up on is bibim dangmyeon. This simple dish includes glass noodles, sliced fish cakes and vegetables, topped with a spicy sauce. If you're looking for something a little sweeter, try the ssiat hotteok. This sugary, warm pancake is fried on a hot griddle and then cut up and filled with a variety of seeds and black sugar.
2 Santorini of Busan! Toseong Station (Line 1) – Gamcheon Culture Village

(Landscapes of Gamcheon Culture Village)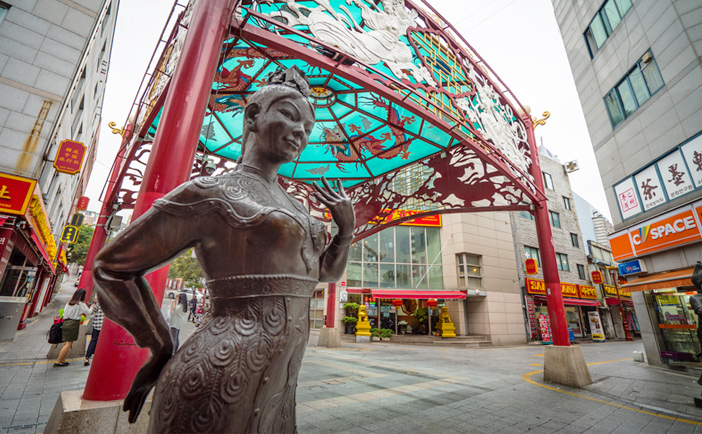 Gamcheon Culture Village is found a mere 20-minute walk from Toseong Station, Exit 8. This terraced village is built up on a slope above the ocean, giving it the nickname "The Santorini of Busan." The neighborhood is filled with small galleries, craft shops, and cafés with amazing views, perfect for new discoveries. The colorful buildings also make for outstanding photos. To make the most of your time, stop by the Gamcheon Culture Village Information Center to purchase a stamp tour map (2,000 won / available in English, Japanese, and Chinese) before you head out!
3 Little China in Busan! Busan Station (Line 1) Chinatown

(Busan Chinatown (top), mooncakes & fortune cookies (bottom))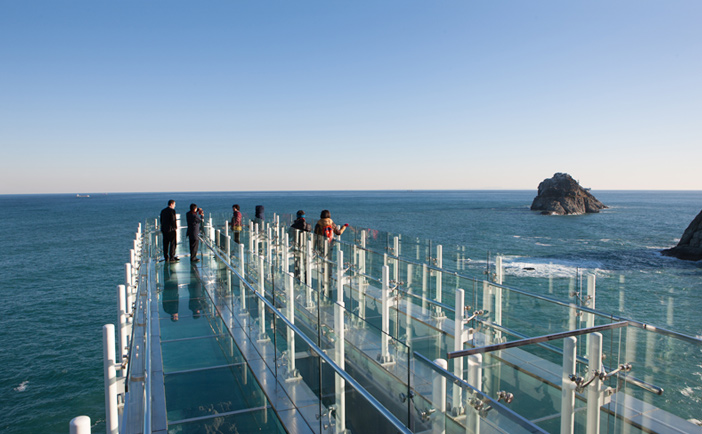 The entrance to Busan's Chinatown, also called Shanghai Street, is easy to find, thanks to the large red gate. Other Chinese-influenced aspects of the area include uniquely designed street lamps and pavilion-shaped buildings. The backstreets are lined with Chinese restaurants, selling everything from Chinese donuts and dumplings to fortune cookies. Chinatown is located just across the street from Busan Station, making it a popular spot for people traveling by train.
Major attractions on Line 2
1 Walking on water! Kyungsung Univ.•Pukyung Nat'l Univ. Station (Line 2) – Oryukdo Skywalk & Igidae Park

(Oryukdae Skywalk & Igidae Park)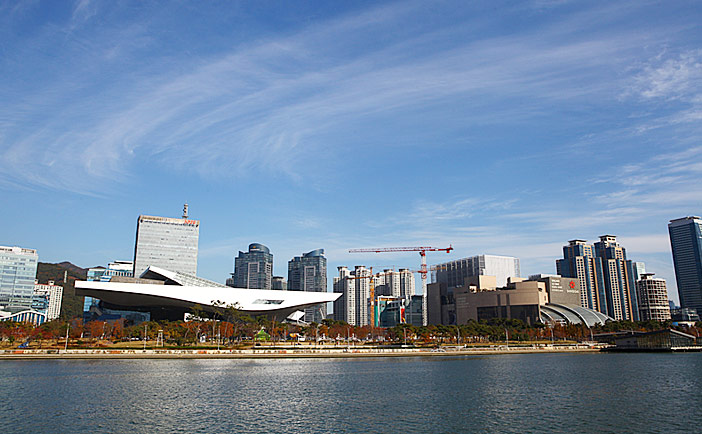 After a short 15-minute taxi ride from Kyungsung Univ.•Pukyung Nat'l Univ. Station of Line 2, you will soon arrive at Oryukdo Skywalk. This skywalk is favored by many who wish to experience walking above the sea. Step out on the skywalk to stand roughly 9m above the ocean while taking in the unobstructed view and ocean breeze. Nearby attractions include Igidae Park, Galmaet-gil & Haeparang-gil Trails and other promenades for enjoyable trekking along the coast.
2 Shopping and entertainment meet! 

Centum City (Centum City Station)

(Landscape of Centum City (top), Shinsegae Centum City & Busan Cinema Center (bottom))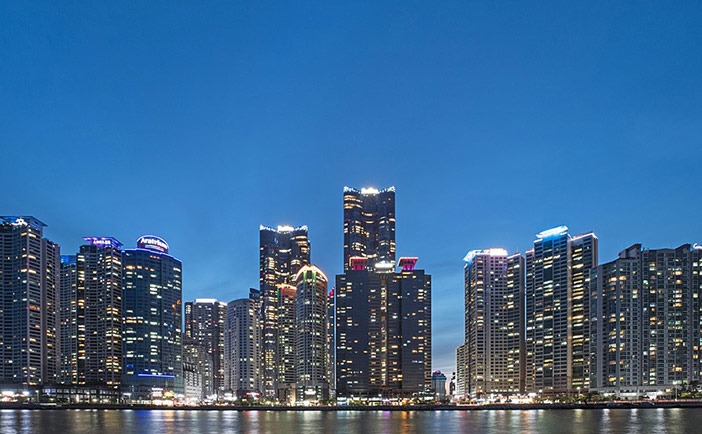 Busan's Shinsegae Centum City was recorded as the World's Largest Department Store in 2009, and features various brands, including luxury products. Visitors can also enjoy the delicious tastes of some of Seoul's most famous restaurants that have opened up branches here in Busan. In addition to shopping, visitors can enjoy all aspects of entertainment, from a movie theater to bookstore and even an indoor ice skating rink. The nearby Busan Cinema Center, the venue of Busan International Film Festival, is also worth a visit.
3 Glowing skyscrapers! 

Dongbaek Station (Line 2)

 – The Bay 101 & Dongbaekseom Island

(Nightscapes of Marine City (top), The Bay 101 & Dongbaekseom Island's Nurimaru APEC House (bottom))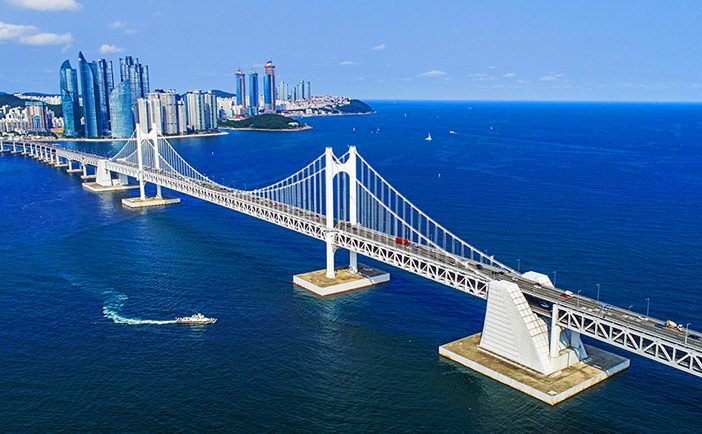 Busan has many beautiful nightscape scenes that reflect off the ocean. The Bay 101, in particular, has become one of the hottest places for viewing Busan's skyline at night. The facility is a yacht club equipped with a café, gallery, restaurants and more. The outdoor tables on the rooftop terrace, open year round excluding winter, serve as the perfect place to enjoy a delicious meal or drink with friends while taking in the cool sea breeze. Nurimaru APEC House, where the APEC summit meeting was held, is also located nearby on Dongbaekseom Island, perfect for an evening walk.
4 Busan landmark, Gwangandaegyo Bridge! 

Gwangan Station (Line 2)
(Vibrant nightscape and fireworks at Gwangandaegyo Bridge)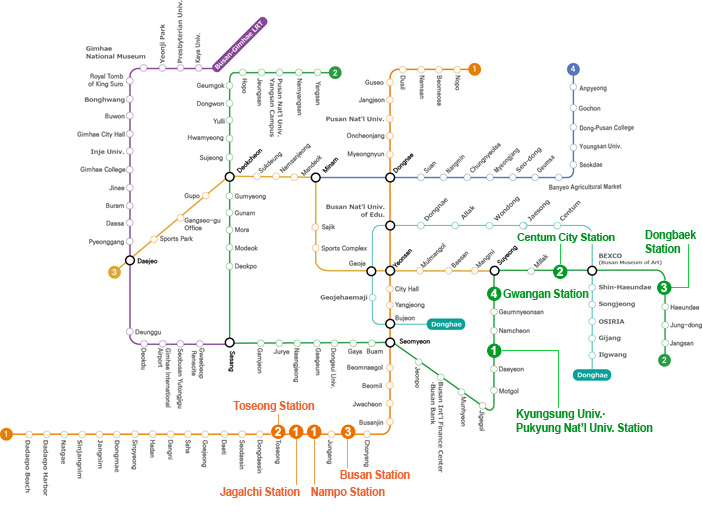 The view of Busan's landmark Gwangandaegyo Bridge at night cannot be missed. The bridge, Gwangalli Beach, and Haeundae's Marine City line up to create one fantastic landscape. Gwangandaegyo Bridge is also the venue for the popular Busan Fireworks Festival that takes place each fall. Take in the panorama from one of the many waterfront cafés that line Gwangalli Beach.
More Info
☞ Transportation (Seoul→Busan) 
(Gimpo International Airport (Domestic Terminal) → Gimhae International Airport (Domestic Terminal))
- Gimpo International Airport website: www.airport.co.kr/gimpo (Korean, English, Japanese, Chinese)
- Gimhae International Airport website: www.airport.co.kr/gimhae (Korean, English, Japanese, Chinese)
(Seoul Station → Busan Station): Adult fare 59,800 won / Travel time approx. 2hrs 40min
- Korail reservation website: www.letskorail.com (Korean, English, Japanese, Chinese)
☞ Busan Tourism Organization: www.bto.or.kr (Korean, English, Japanese, Chinese)
☞ 1330 Korea Travel Hotline: +82-2-1330 (Korean, English, Japanese, Chinese)