Cooling temperatures and leaves changing from the vibrant greens of summer to a rich palette of red, orange, and yellow signal the arrival of autumn. Although numerous areas across Korea offer brilliant displays of fall foliage, the mountains are still considered the quintessential destination. 
This year, the leaves are expected to change color around late September at Seoraksan Mountain and spread southwards across the central and southern parts of Korea. Fall foliage generally reaches its peak two weeks from the time the leaves begin to change, meaning this year's peak foliage is expected to hit the central region around mid-October, and the southern region in late October. This is when you can hit the road to revel in the splendor of the changing of the seasons.
Seoraksan Mountain in Inje, Gangwon-do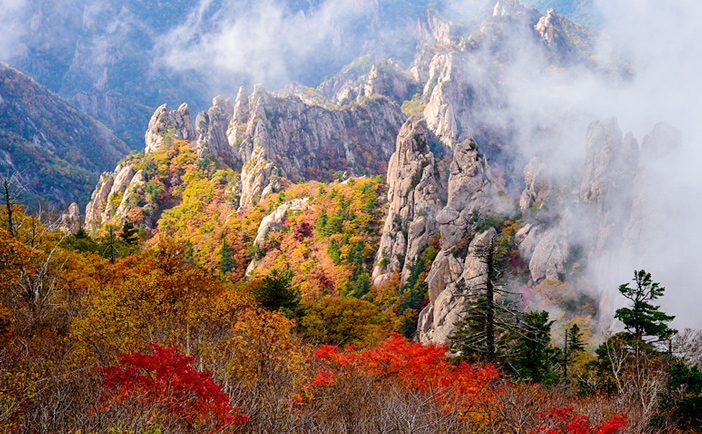 Fall at Seoraksan Mountain

When it comes to autumn destinations, the first mountain that comes to mind for most is Seoraksan Mountain. A feast for the eyes throughout the year, rich colors make Seoraksan a main attraction in autumn. There are plenty of hiking trails along the mountainside; when planning your hiking route, take into account that the best places to view leaves are Cheonbuldong Valley, Osaek Mineral Spring, Osaek Jujeongol and Baekdam Valley.
Seoraksan National Park (Inner Seorak), Seoraksan National Park (Outer Seorak)
☞ Transportation 
Seoul→Sokcho 
- Seoul Express Bus Terminal (Gyeongbu/Yeongdong Line) → Sokcho Express Bus Terminal / Travel time approx. 2hr 30min
- Dong Seoul Bus Terminal → Sokcho Express Bus Terminal / Travel time approx. 2hr 30min
Sokcho Express Bus Terminal→Seoraksan Mountain: Cross the street from Sokcho Express Bus Terminal and take Bus No. 7 or 7-1 to Seoraksan Sogongwon Bus Stop → Walk approx. 5min to the park.
☞ Nearby attractions
Seorak Waterpia, Naksan Beach, Daepohang Port
Odaesan Mountain in Pyeongchang, Gangwon-do

Odaesan Mountain and Guryong Falls

Odaesan Mountain's vibrant fall foliage puts it on the map as an autumn destination. A popular vacation site year round, the mountain bustles with campers and guests at natural recreation forest lodges, especially during peak foliage season around mid-October. During busier times, the northern region, away from Woljeongsa Temple, often offers more convenient access to Odaesan Mountain. In particular, there is a city bus stop near Sangwonsa Temple, making it easy for travelers without their own vehicles.
Odaesan National Park
☞ Transportation 
Seoul→Pyeongchang: Dong Seoul Bus Terminal → Jinbu Bus Stop / Travel time approx. 2hr
Jinbu Bus Stop→Odaesan Mountain: Take a bus from Jinbu Bus Stop bound for Jinbu∙Sangwonsa and get off at Sangwonsa Temple Bus Stop.
☞ Nearby attractions 
Sangwonsa Temple, Woljeongsa Temple, Daegwallyeong Sheep Farm, Alpensia Resort, Yongpyong Resort
Jirisan Mountain in Gurye, Jeollanam-do

Fall foliage of Jirisan Mountain and Ssanggyesa Temple

Jirisan Mountain is beloved among Koreans, often considered a feminine mountain due to its lovely charm. During peak foliage season in late October, the slopes blaze with brilliant colors. The areas around Ssanggyesa Temple, Piagol Valley, and Baemsagol Valley in particular are beautiful at this time. Jirisan extends across three provinces (Jeollanam-do, Jeollabuk-do, Gyeongsangnam-do), and many visitors choose to go on overnight hiking trips to fully appreciate the mountain.
Jirisan National Park (Jirisan Mountain Nogodan Peak)
☞ Transportation 
Seoul→Gurye: Seoul Nambu Terminal → Gurye Bus Terminal / Travel time approx. 3hr 10min
Gurye Bus Terminal→Jirisan Mountain: Take a bus from Gurye Bus Terminal bound for Gurye-Piagol Valley  and get off at Pyeongdo bus stop → Walk approx. 7min to Jirisan Yeongok Ticket Office. 
Seoul→Hadong: Seoul Nambu Terminal → Hadong Intercity Bus Stop / Travel time approx. 4hr
Hadong→Ssanggyesa Temple: Take a bus from Hadong Intercity Bus Stop bound for Hadong∙Ssanggyesa and get off at Ssanggyesa Temple Bus Stop → Walk approx. 5min to Ssanggyesa Temple Ticket Booth.
☞ Nearby attractions
Ssanggyesa Temple, Hwaeomsa Temple, Cheoneunsa Temple, Gurye Sansuyu Village
Naejangsan Mountain in Jeongeup, Jeollabuk-do

Autumn scenes at Naejangsan Mountain

Naejangsan National Park boasts a high volume of visitors in late October, as to be expected from a top foliage destination. The most remarkable feature of this mountain during autumn is the tunnel of multicolored maple trees that begins at the ticket office. The many maple trees that make up this tunnel were planted at 5m intervals, making photos taken here appear perfectly composed.
Naejangsan National Park
☞ Transportation 
Seoul→Jeongeup: Central City Terminal (Honam Line) → Jeongeup Intercity Bus Terminal / Travel time approx. 3 hr
Jeongeup Intercity Bus Terminal→Naejangsan Mountain: Walk approx. 2min from Jeongup Intercity Bus Terminal to Jeongeup Terminal Bus Stop → Take Bus No. 171 and get off at Service Area∙Terminal Bus Stop → Walk approx. 5min to arrive at Naejangsan National Park Office
☞ Nearby attractions
Naejangsa Temple, Geumseon Valley, Pihyangjeong Pavilion
Juwangsan Mountain in Cheongsong, Gyeongsangbuk-do
Juwangsan Mountain's fall foliage

Juwangsan National Park is characterized by rocky peaks, deep valleys and elegant waterfalls. Among the many hiking trails, Juwang Valley Course is one of the easier courses that offers a beautiful fall foliage view, and takes about four hours to complete. At dawn, the thick fog blanketing Jusanji Pond near Juwangsan Mountain, combined with the reflection of trees in the water, continues to attract visitors, especially photographers, to the mountain every year.
Juwangsan National Park
☞ Transportation 
Seoul→Cheongsong: Dong Seoul Bus Terminal → Juwangsan Intercity Bus Terminal / Travel time approx. 4 hr 30 min
Juwangsan Intercity Bus Terminal→Juwangsan Mountain: The hiking trail starts directly from Juwangsan Intercity Bus Terminal
☞ Nearby attractions 
Jusanji Pond, Cheongsong Folk Museum, Songso House
More Info
☞ Korea National Park Service website: www.knps.or.kr (Korean, English, Japanese, Chinese) 
☞ National Park admission: Free
* Separate fees apply to many of the temples and cultural assets located along the hiking paths. The standard adult fee is 3,000 won.
☞ Related columns 
- 2017 Autumn Festivals in Korea 
- Fall Foliage Destinations in the City
☞ 1330 Korea Travel Hotline: +82-2-1330 (Korean, English, Japanese, Chinese)